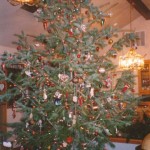 Now that we're deep into the holiday season, we're faced with that age-old dilemma: "What should I bring to the neighbors' party?" I'd suggest better grammar! The question should be, "What should I take to the party?" Take is used when something is being moved away from the speaker and bring when something is being moved toward the speaker.
Dr. Seuss got it right. Remember what the Grinch told little Cindy-Lou Who when she asked him why he was taking their Christmas tree? "There's a light on this tree that won't light on one side. So I'm taking it home to my workshop, my dear. I'll fix it up there. Then I'll bring it back here."
If you are coming to my home, you may bring whatever you choose, as long as it's tasty!
The holidays bring to mind another word challenge: sit, set, sat. Sit means to be seated. I sit at my computer. Yesterday I sat far too long. I have sat here many hours. Set (to place) needs an object. He sets the turkey on the table. Yesterday he set a turkey casserole in front of me. He has set it there every year, and it is always yummy. 
Speaking of tasty food, I've included a recipe for scones served at the (fictional, alas) Blind Chukar Café in Hancock, Idaho. The Chukar is a gathering place for the characters in my novel Mustard's Last Stand.
Cranberry-Orange Scones
 1 tsp. cinnamon                                    ½ cup butter or margarine (1 stick)
Sugar (1 T, ¼ cup)                                ½ cup dried cranberries or raisins,                                                                             chopped
1 ½ cups all-purpose flour              ¼ cup sour cream
1 ½ tsp. baking powder                    ¼ cup orange juice
½ tsp. salt                                                 2 tsp. grated orange peel
Preheat oven to 400°. Grease cookie sheet or use parchment paper. Mix cinnamon and 1 T sugar, set aside.
Mix flour, baking powder, salt and ¼ cup sugar. With pastry blender, cut in butter until mixture resembles coarse crumbs.
Stir in dried cranberries, sour cream, orange juice and orange peel just until ingredients are blended.
Turn dough onto lightly floured surface. Roll to ½ inch thickness.
Cut out scones with 3-inch cookie cutter (use a star for holidays) Place two inches apart on cookie sheet. Press trimmings together and roll and cut as above. (Use a light touch!)
Sprinkle scones with cinnamon/sugar mixture.
Bake 10 to 12 minutes until golden. Serve warm or cool on wire rack.
I'm a big fan of scones (okay, of lots of pastries). Include a favorite in your comments!