Some might consider the various terms used to describe fruit desserts as jargon, "insider" language to be avoided. I consider their colorful names words to ponder, and the dishes delicious treats to savor.
We all know what a pie is, but why all the other creations and the many names? A 2013 article by Kim Severson in The New York Times, "Sonkers, Grunts, Slumps and Crumbles: What You Call Your Pie Depends on Where You Live," begins with the search for an authentic recipe for a sonker and ends with a helpful glossary.
Many of the dishes were created to stretch the use of fruit that wasn't ready for display in a tart. Food author Amanda Hesser maintains that the various names disguise "plain desserts that have been well marketed with good names. Who doesn't want to try a slump?"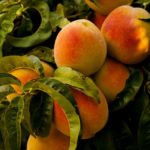 A slump? A sonker? Give me a pinch of patience and I'll describe them. Let's start with the ubiquitous cobbler. Severson said that what you call a cobbler depends on what you grew up with.
Here in the West, pioneers brought their recipes with them, so a cobbler may be interpreted in several ways in the same state. A 1984 fundraising cookbook from the Owyhee County, Idaho,  Senior Citizens, Country Cooking, shared a recipe for a cobbler with a crumbly top, while a cobbler in a 1970 cookbook by The Idaho Historical Auxiliary had a pie crust-like topping. Some cooks top their cobblers with biscuit dough; others consider that an outrage and stick to batter or pie crust toppings. My stepfather made a great peach cobbler, notable because I believe it had more sugar than peaches. Pandowdy is another colorful name for the cobbler, so named perhaps because of its dowdy appearance.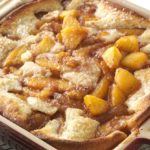 Some say the biscuit toppings resemble cobblestones and give the dish its name. Others say it is cobbled together.
Fruit crisp or crumble: In this Northeastern favorite, the fruit is topped with oatmeal and brown sugar. Again, however, the 1970 Idaho cookbook sprinkled flour, cinnamon, margarine and brown sugar over apples and called it a crisp. The same cookbook contained a Rhubarb Crunch. Rhubarb, a plant in the buckwheat family, that is neither fruit nor vegetable, is covered with an oatmeal crumble and baked.
Brown Betty: made by layering fruit and buttered bread crumbs.
Apple slab: A pie made in a 9 x 13 rectangular pan, easier to divide and serve than a round pie.
Buckle: Made with more batter, a buckle is more cake-like. Some top it with streusel.
Slump: Similar to a grunt. In these American cousins of British steamed puddings, stewed fruit is topped with batter or biscuit dough, which is then steamed into dumplings.
Sonker: Specific to Surry County, North Carolina. Some cooks in the county insist that sonkers are made only with sweet potatoes and buttermilk, but others allow it can be made with fruit. The sonker is made in a large, deep pan, ideal for feeding big farm families and their crews. Some cooks insist it be covered with a pie crust, others opt for batter.
Severson quoted Alma Venable, one of the cooks who believe that a proper sonker is made with a crust. On what separates a sonker from a cobbler, Venable said, "You have the violin and you have the fiddle. The sonker is the fiddle."