Since Halloween is marching its way to our doorsteps, and my books have slight "green" tint, I thought I'd share a bit of lore about "green," and a very bad joke that mentions that other autumn color, orange.
"Knock-knock."
"Who's there?"
"Orange."
"Orange Who?"
"Orange you going to download my free book on Amazon and give it a stellar review?"
Foul Wind, the second in my Havoc in Hancock humorous suspense series, is now free on Amazon Kindle from October 19th – October 23!  I changed the cover, making it a bit more menacing.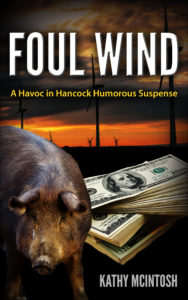 In Foul Wind, when former activist Feather finds the brutally murdered body of her sister's lover but can't find her sister, she rushes to discover what's behind the foul wind from a new energy plant in North Idaho. Why rush?  Her meddling mother could become the next victim. Or Feather could become the prime suspect. 
 I promise it's better than my joke!
Now on to the green, the word and the political movement.
The word green has its roots in the Old English grene, meaning young, immature, or raw, and possibly, from Old High German, meaning to grow. According to some of my sources, grass has the same roots. (Language-wise.)
A green as a grassy field comes from Old English, and its reference to someone of a tender age, youthful, and hence, gullible has been in use since the 15th century.
Any discussion of the green movement and where it has its roots can fast be made murky by politics. Many agree that Henry David Thoreau, who pled, in his book Maine Woods, that we preserve our virgin forests, was one of the first Americans to make an environmentalist statement. Others cite Rachel Carson's Silent Spring, a 1962 book that warned of the dangers of pesticides and environmental pollution, as the key factor launching the green movement.
The first Earth Day, a grassroots demonstration on behalf of the environment, was held April 22, 1970, the brainchild of Senator Gaylord Nelson. The 1970s saw the worldwide beginnings of green parties, formed to promote grassroots democracy, environmentalism and social justice.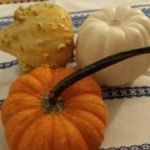 The season of harvest and Halloween led me to consider something else green: the maze. Given the many corn mazes that we see at this time of year, I wondered if the word maze had any relation to maize. It doesn't.
Maize is corn, from the Spanish, maiz.
Maze comes from Middle English and means bewildered or stunned. It is the root of the word amaze, to astonish or stun. Maze was formerly a verb meaning to confuse or bewilder, but generally today is only used as a synonym for a labyrinth, a network of interconnecting and confusing paths, a warren; a puzzle.
What's not a puzzle is  the beauty of Arizona's fall and my delight in knowing it won't be followed by snow and ice.