Today I am fortunate to welcome the delightful J.Q. Rose to my blog. I read and enjoyed J.Q.'s Sunshine Boulevard and look forward to reading Deadly Undertaking. For heaven's sake, how clever is the name of the funeral home? Staab and Blood? Love it. Let's learn more about J.Q. and her latest mystery.
About the book: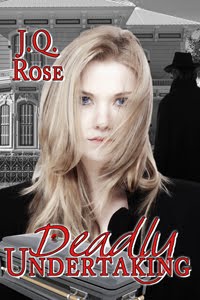 A handsome detective, a shadow man, and a murder victim kill Lauren's plan for a simple life.
Lauren Staab knew there would be dead bodies around when she returned home. After all, her family is in the funeral business, Staab and Blood Funeral Home. Still, finding an extra body on the floor of the garage between the hearse and the flower car shocked her. Lauren's plan to return to her hometown to help care for her mother and keep the books for the funeral home suddenly turns upside down in a struggle to prove she and her family are not guilty of murdering the man. But will the real killer return for her, her dad, her brother? Her mother's secrets, a killer, a handsome policeman, and a shadow man muddle up her intention to have a simple life. Welcome home, Lauren!
About author J.Q. Rose: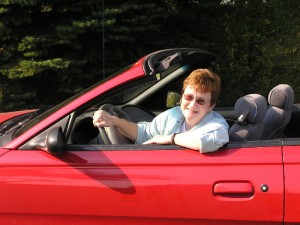 After writing feature articles in magazines, newspapers, and online magazines for over fifteen years, J.Q. Rose entered the world of fiction. Her published mysteries are Sunshine Boulevard, Coda to Murder, and Deadly Undertaking. Blogging, photography, Pegs and Jokers board games, and travel are the things that keep her out of trouble. She and her husband, Gardener Ted, spend winters in Florida and summers up north camping and hunting toads, frogs, and salamanders with her four grandsons and granddaughter.
Buy the book:
Amazon  http://amzn.to/1OMmocd
Amazon UK http://amzn.to/22Kxumg
 Barnes and Noble http://bit.ly/1H72tvV
 Kobo https://store.kobobooks.com/en-us/ebook/deadly-undertaking
Connect with J.Q. :
J.Q. Rose blog http://www.jqrose.com/
Facebook http://facebook.com/jqroseauthor
Google+ google.com/+JQRose
J.Q. Rose Amazon Author Page http://tinyurl.com/aeuv4m4
Goodreads- http://www.goodreads.com/jqrose
Pinterest http://pinterest.com/janetglaser/
Five Fun Facts About J.Q. Rose
Fun fact. I like potato chips dipped in ketchup accompanied by a cold glass of chocolate milk.
Fun fact. I kicked up my heels as a hobo from Hooverville in the chorus line of the community players production of Annie. So much fun and a dream fulfilled.
Fun fact. I helped to build the ark. No, not THAT ark, silly. The ark is the centerpiece of the Ark Park, a playground for the community.
Fun fact. In my bio photo, the red Mustang convertible was a surprise birthday gift from my hubby in 1995. Still drives like it's new.
Fun fact. My older brothers and I all played cornet/trumpet in the school band. They made sure to stand out on the front porch when I practiced at home so the neighbors could see they were not the ones tooting out those sour notes.
Again, thanks for being with us today, J.Q. We're excited about your latest novel.
I'm at J.Q.'s blog today. Once you've read about Deadly Undertakings, hop on over to her blog and read about me.