In nature, we sometimes find an incredible blossom springing from something ungainly and almost ugly. The same can be said for our writing. "Shitty first drafts," a term made popular by Anne Lamott, can turn into word works of art.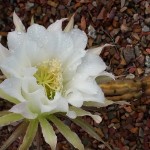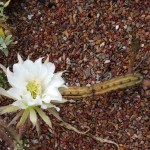 Nature's gift takes no effort on our part save the breath we gasp out in wonder and perhaps the minimal effort to snap a photograph. The flower in the photo sprang from a cactus I thought dead or at best struggling to survive in our garden.
To transform those first drafts into words others will read and on occasion gasp at takes persistence, the willingness and ability to learn, creativity, and at times, inspiration. Often it requires the help of writer friends or professional editors.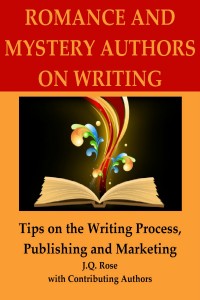 Romance and Mystery Authors on Writing is a fantastic little e-book that synthesizes lessons learned about the writing process, publishing and marketing from fifteen published authors. Royalties will be donated to public libraries. I contributed to the book. I also have learned a lot reading the contributions of the other authors.
Topics include dialogue, characters, story structure, editing, tips on finding an agent, editor or publisher, tips on promoting your book, light-bulb moments and lessons learned. Thanks go to J.Q. Rose for compiling and organizing our random thoughts.
I shared advice I heard years ago from Ridley Pearson (and since from many other successful authors), advice I wish I'd be more diligent about following. In essence, if you want to write, get your butt in the chair and write. Earlier this year I heard Ridley speak at the Tucson Festival of Books. The man has followed his own advice. He is now writing two series for children and a suspense novel or two a year! He writes from 7 a.m. until 5 every day in addition to going on book tours. He has written more than 48 novels and reports that he still gets a thrill when each new book comes out. Plus he somehow finds time to sing and play with The Rock Bottom Remainders, a group of writers who donate proceeds from their concerts to literacy. I attended their concert at the Tucson Festival of Books, and it was an absolute hoot!
Spend time each day writing. Editing time counts as writing. I think you also need to spend time filling the well of creativity. Edison said, "Genius is one percent inspiration and ninety-nine percent perspiration." So too is writing. But I advise taking time to find inspiration in whatever ways move you—a visit to the art museum, a walk in the wilderness (a brief one!), listening to music, gardening, cooking.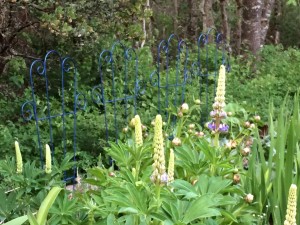 My creative and talented daughter turned mundane and tired metal trellises I gave her into works of art, painted a sparkly blue. If you want your words to sparkle, practice discipline, fill the well of creativity, and learn from others.
How do you fill your well? What's the best advice you've received about writing? Oh, and if you know what that cactus flower above is, please share!